Main
Total Count: 672955 | Page Views: 2221
Write as if you were dying. At the same time, assume you write for an audience consisting solely of terminal patients.
Annie Dillard
---
Accounting Technology is something that I think about almost every day! Follow the link to a great infographic of some of the changes since Pacioli.
Waterproof ink and dip pen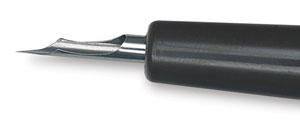 Higgins Black Calligraphy Ink is the first holds up as waterproof ink that I used recently. According to Higgins the ink is pigment based and recommended for use with brushes, fountain pens and dip-pens, on board or paper. The ink gives a slight embossed look, standing up just a bit on the paper. I was not brave enough to put it in any fountain pen! But I think that I might in the future and clean it immediately with water and a drop of ammonia.
I successfully (finally!) used a Speedball Crow Quill Dip Pen with a #102 crow quill nib. A couple of description notes from Dick Blick
Nib shown above -- Crow Quill (superfine) #102 Crow Quill Nib — Superfine, flexible.
Cylindrical nibs fit only a crow quill holder, and generally draws finer lines than standard pens.
Server software update
On 2/1/2014, documented at Process For Updating The Server For New Releases Of Pm Wiki for the next update! In this case, a fairly complete review of the system with changes to the configuration file.
Should be applying the small patches and updates monthly.
Daily Writing
Starting with a devotional with a mix of short ideas and some of my photographs. DR.DR
Technology updates
Deloitte University Press is a good source of technology and business innovations. Article groupings include Emerging Technologies and Risk and Security.
E-Commerce Case Study
Everything you need to know about social media and content marketing, you can learn from this Virginia-based fountain pen company by Trevor Young
I've been a fan and customer of the Goulet Pen Company for some time due to several factors, all related to freely sharing information. For example,
Fountain of Knowledge section with links to videos clearly explaining the hows, whys, and whats of fountain pens.
The Pen Plaza is my favorite for looking at comparisons of fountain pens (open, close, posted, etc.). This is a unique feature of the site. Similar, but different, comparisons at other sites include:
Ink color comparisons are everywhere on the web, but Brian Goulet's has built an excellent application allowing comparison by color group, brand, and interactive (i.e. you get to choose what to compare). The Swab Shop at Goulet Pen Company
Back to the e-commerce case study! Everything you need to know about social media and content marketing, you can learn from this Virginia-based fountain pen company has the details from the perspective of an adviser on social media and content marketing.
Key takeaways (quoted from the blog post:

... instructional ... 'evergreen' content that's interesting and useful
Storytelling underpins their whole strategy ... uses content not only to tell its brand story but also to introduce its team to the world – this 'human element' is a theme that runs throughout everything the business does.
... relentless and consistent in its social and content output
Passion is critical, because it shows!
Google Scholar and online references to research
I'm in the process of trying to fix up my CV and although Google Scholar is very good at picking up most research articles there are some electronic journals that are not indexed.
My Google Scholar page
My Resume online with links to publications -- or starting to build it online today! My next move will be to add PDFs of my articles so that they are readily available. Maybe I'll split the resume page out into teaching, research and service sections before I do that. Several pages rather than one massive page. Particularly because storing pdf's together in a folder by year seems appropriate.
Google Scholar has some instructions that I should probably read! http://scholar.google.com/intl/en/scholar/inclusion.html
Hints on asking for a good recommendation letter
It must be the season for scholarships and applications. Thinking about writing my own guidance on this subject particularly in the area of "what would you like your recommendation to say about you?" Reading over my previous letters I realize that the more I know about a student, the better I am able to include numerous specific details about how they work, what they have completed, how they have developed leadership, etc.
A nicely laid out set of instructions with rationale How to Ask Your Professor for a Letter of Recommendation Via Email. More comprehensive than I was looking for (how to write a subject line, how to formally address the individual, and so on).

The key idea that I was looking for Use the third paragraph as an opportunity to hint at what you'd like the professor to say about you: You'll want to include any information about yourself which they may not be aware of.
However, I'm thinking beyond hint! How about asking for that information, i.e. specific details of situations, qualities, and examples that they feel would support their application or scholarship. directly. Of course, I intend to edit and selectively use what I feel is appropriate.

How to Get a Great Letter of Recommendation has the following line in reference to providing your own letter: provide a list of bullet points about interests and accomplishments that they can massage into a letter.
Financial press notes
MarketWatch Retirement Mentors http://www.marketwatch.com/retirement/mentors
Paul Merriman http://www.marketwatch.com/retirement/mentors/stories?authorid=20769
Check out George Sisti http://www.marketwatch.com/retirement/mentors/stories?authorid=21560
John Bogle quote: The principles of sensible savings and investing are time-tested, perhaps even eternal. The way to wealth, it turns out, is to avoid the high-cost, high-turnover, opportunistic marketing modalities that characterize today's financial service system and rely on the magic of compounding returns. While the interests of the business are served by the aphorism "Don't just stand there. Do something!" the interests of investors are served by an approach that is its diametrical opposite: "Don't do something. Just stand there!" from http://www.cnbc.com/id/101381010
John Bogle's advice summarized:

Low cost index funds that remain invested through up and down markets. period.
Simplicity trumps complexity
The magic of compounding

Good reading suggestion: Ben Franklin, The Way to Wealth
Writing
Four Million Words of Journaling is a great story about human persistence. Just today we were talking about the weather of one winter or another and I commented that the old farm calendars with the daily weather on the farm are lost. They would have been a good resource for the Day County historical society!
The writer in the linked article has 66 years worth of details. His story ...
Retired English agriculture consultant John Gadd has spent 20 minutes each day of the past 66 years chronicling whatever captures his imagination, and the result is 20,000 pages of thoughts, drawings, photos and even wine labels spread across 151 volumes. His journals have significance that go beyond capturing the memories of one family as he has immortalised some of the most influential events of the past half-century through notes and newspaper clippings.
Momentum chart
example at StockCharts using Money Flow Index (MFI) behind the price chart. The calculation of MFI is a combination of RSI and volume. This chart also displays CCI (CCI measures the current price level relative to an average price level over a given period of time).
Watches
Seiko Sportura Kinetic Perpetual looks interesting http://www.seikowatches.com/baselworld/2012/products/sportura/SNPO55P1.html
Jim Rohn
Keeping a Journal This is a classic clip from a great communicator. 8 minute version. And the longer 1 hour version Jim Rohn - How to Use a Journal, which is the book on cassette on my bookcase!
Photography